Flyerline Schweiz AG
Landstrasse 30
8595 Altnau, CH
+41 71 686 84 70
info@flyerline.ch
Web2Print solutions from Flyerline: Simple, intelligent, process-optimised print procurement
Simplified print management for businesses and organisations

Print procurement challenges
Are you the one ordering standard printed matter for your company at regular intervals or are multiple employees involved in the procurement process? Do you need a quick and easy way to design printed materials like business cards or stationery featuring both text and a logo? But it's easy to lose track of things, plus preparing print data and going through the internal approval and billing processes can be time-consuming.
Flyerline's Web2Print portal will help you structure your print procurement to be more efficient, more cost-effective and individually tailored to your company's processes.
The Web2Print portal – user-friendly and individually tailored to your processes
Flyerline's Web2Print portal works just like the Flyerline online shop. All you need is an Internet connection and a personal login to gain access to Flyerline's full range of standard products as well as your own personal printed products and templates – designed entirely to meet your specific needs.
The Web2Print portal bundles all the processes – including configuration and approval processes, inventory management, order processing and all logistics processes – and tailors them individually to your organisation. Define any desired number of empty spaces for allocating cost centres, departments, G/L accounts and contacts, then easily store this data in your account's address book.
Printed products bearing your corporate design
Flyerline's Web2Print portal offers the full range of tools and functions needed to edit and order CI-compliant documents. Order placement can either be done conventionally via file upload, using predefined designs or through the use of customisable print data. So-called stock items such as stationery, envelopes, notepads, etc. (always featuring the same design) can also be stored. An online editor is available for customising print data for items such as business cards and brochures; this editor has predefined spaces (boxes) where the person placing the order can insert text, images and logos. For three-dimensional products like packaging and POS materials, for example, a special online editor lets you create your layouts right in the editor and generate print data based on the 3D rendering of the item. The print data preview function lets you conduct a simple final check before completing the order process.
Flyerline's Web2Print specialists manage individual print product uploads and add product information and images in line with your instructions.
Multilingual Web2Print portal available
Flyerline's shop system is available in several different languages (German, French and English). Documents (order confirmations, delivery notes and invoices) are also sent in the language used for the system at the time the order was placed.
Curious?
Request a demo now
The portal at a glance
Personalised portal for efficient print procurement and design

Browser-based application

Own domain possible, with traffic forwarded to flyerline.ch

Personal user account with address and order management

Any number of logins with different authorisation levels

User-defined approval and order processes

Attractive conditions of purchase

Various shipping methods and multiple delivery addresses

Payment can be made on account, per order or as a collective invoice

Shop system in several different languages (DE/FR/EN)

Integrated discount and voucher system

Reliable hosting in Switzerland

Free system updates

Competent telephone support provided directly by our Web2Print experts
Sample applications for a Web2Print portal
Is a portal like this only worthwhile for large companies requiring large volumes of printed matter? No. Small companies, associations and organisations can also benefit from our customisable Web2Print portal. We'll show you two situations where a Web2Print portal makes sense and how it can streamline your print management process.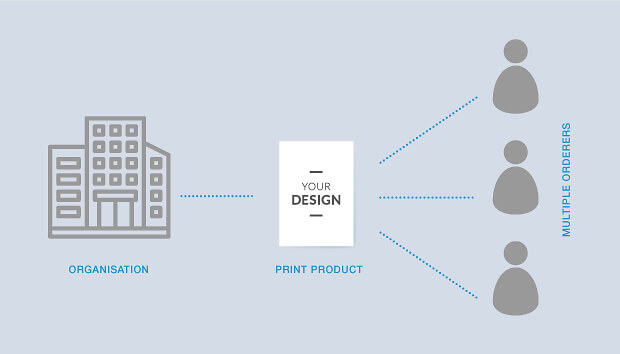 One organisation, a small number of printed products, many people placing orders
A non-profit organisation provides its more than 500 members with a leaflet in different languages. The leaflet must be personalised and printed with personal contact details. The Web2Print portal lets members access the leaflets independently, use the editor to insert their personal contact details and easily place their order for dispatch to their own address. Costs can be charged centrally to the organisation or individually to each person who placed an order.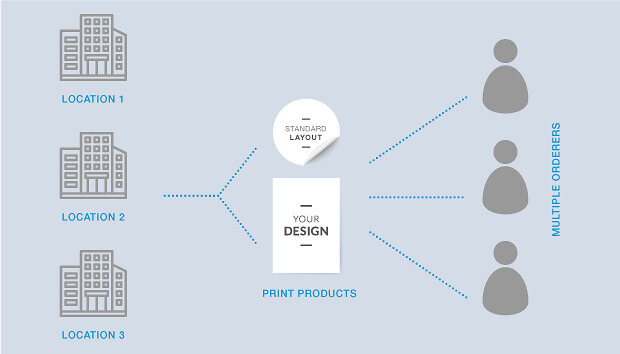 Multiple locations, multiple users, multiple printed products
A Zurich-based language school runs several language schools throughout Switzerland. For the classroom lessons, each of the language schools requires a variety of standardised teaching materials, which can be ordered individually by each location on an as-needed basis. The Web2Print portal makes it possible for the people in charge to simply order the textbooks they need online and have them delivered to their location. The head office always has an overview of the textbooks ordered, can approve orders centrally and allocate them to the corresponding cost centres.
Frequently asked questions
What kind of organisations can benefit from a Web2Print portal?

In principle, any organisation interested in making the print procurement process clearer and more efficient as well as in having the full range of customised printed products available in a single shop. Regardless of whether it's a small organisation ordering different printed products on a regular basis, a company with multiple locations and users but a small number of printed products, or an organisation with one printed product that needs to be ordered individually by multiple users. The Web2Print portal gives you control over your print management process and makes your printed products available to a large number of people, regardless of where they happen to be located.

Is user training included?

While the Web2Print application is inherently quite intuitive and user-friendly, we are still happy to offer training. This can be done on site or online, as desired.