Flyerline Schweiz AG
Landstrasse 30
8595 Altnau, CH
+41 71 686 84 70
info@flyerline.ch
Preparing print data: Preparing print data to get perfect print results
Jump back to the overview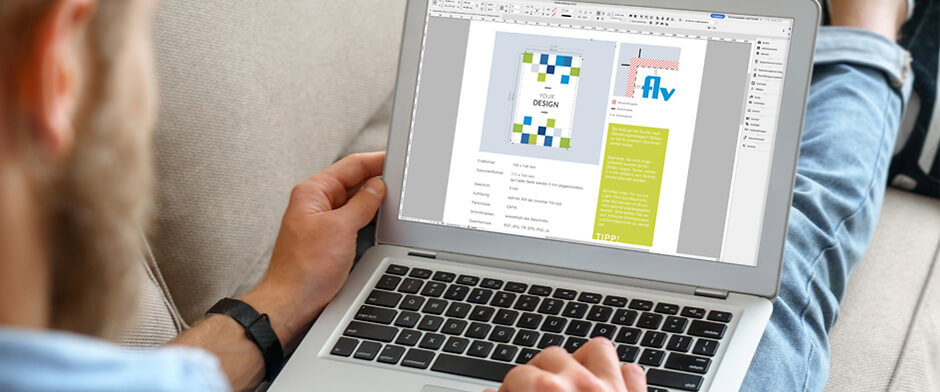 Print data are an important factor for every print job, regardless of whether you're looking to print simple business cards, letterhead or large-format posters. You – or more precisely your masters – determine what the final print results will look like and ensure that all colours and shapes are reproduced correctly. In this article we explain everything you need to know about print data to ensure that your next print job is a success.
This article contains the following sections:
What are print data?
The term print data refers to the digital files used for printing. They contain all the information the printer needs to transfer your design to paper or another material, including images, fonts, colour codes and so much more.
To ensure that the printer is able to process it, print data must be provided in a specific format. There are several different file formats used, the most common of which being PDF file format. Other formats include TIFF, TIF, EPS, AI and JPEG (also JPG) or PNG for images.
How do I create good print data?
A brief overview. To create good print data, there are a few rules you need to follow. Here are a few tips on how to achieve the best possible print results:
We recommend creating the file directly in the CMYK (cyan, magenta, yellow and black) colour space; RGB colour spaces have to be converted, potentially resulting in colour deviations

150-200 dpi (dots per inch) are more than sufficient for larger images but please select a resolution of at least 300 dpi for smaller artwork

Make sure you include bleed allowances and a safe zone; please contact Flyerline directly for precise details or refer to the product data sheet

The best approach is to export your print data directly in printable PDF format since that will make processing the data easy

Don't forget the data check! Incidentally: The standard check is free of charge at Flyerline. The professional data check is subject to additional charges.
We'll take another closer look at each of these points in the following.
Use the correct colour space
There's a nearly infinite variety of reds, greens and blues in the world all around us – I'm sure we can all agree on that.
What's important at the start is to make sure the print file is set up in CMYK colour mode (also called colour application) and not in RGB, because RGB colour spaces have to be converted to prevent any colour deviations. So the red that's printed is really the red you wanted to have. If you order your print products in greyscale, it's imperative that you deliver the print file in greyscale too. For best print results, we recommend using a black gradient to create the grey areas.
When using spot colours like Pantone, keep in mind that in areas where another colour (CYMK, for example) overlaps the spot colour, this should be left blank and created as an overprint. That helps prevent blotchy, uneven surfaces. The same thing applies if the spot colour overlaps the CMYK colour.
Which layout software is best for creating print data?
Nowadays there are countless graphics and layout programmes to choose from, the most common of which are undoubtedly Adobe InDesign, Adobe Illustrator and Adobe Photoshop. If you've already gained some experience with these programmes, working with them is a lot of fun. But no one is born a master. Incredibly good print data and graphics can now even be produced with Microsoft Word and acceptable print results achieved (trust us – we speak from experience).
We'd like to take this opportunity to briefly introduce you to the most commonly used programmes.
Adobe InDesign, Illustrator and Photoshop
These three are the top choices when it comes to creating print data. As mentioned, these programmes aren't easy for beginners. But once you've learned how to use them, it's like riding a bike – you never forget! Photoshop is a real all-rounder. It lets you do everything – from photo editing to generating stickers and logos. Most graphic designers prefer Adobe Illustrator for creating vector graphics, however. InDesign, on the other hand, is excellent for layout work and publishing multi-page documents. InDesign is particularly suitable for files featuring an interplay between graphics, photos and text.
Scribus
Scribus is open source software, so it's available free of charge. It's perfect for designing layouts or for incorporating texts and images. Since you can do a lot of things using the drag & drop feature, the programme stands out as being relatively simple to handle compared to Adobe's software. That means you can produce flyers, brochures or magazines, for example, in very little time. Once you've prepared the files, you can then pass them on to the print shop. Stress-free.
Corel Draw
Corel Draw is mainly used for creating vector graphics. If you're a beginner, you might want to skip this one because it calls for quite a bit of expertise. While the programme is relatively complex, it's also highly compatible with Open Office and Adobe software.
Microsoft Word
Everybody knows this programme. But did you know you can use it to create relatively good print data? Microsoft Word is particularly well-suited to creating texts combined with images. Its ease of use makes the programme ideal for somebody wanting to take their first steps in the area of graphic design.
What resolution should files have for digital printing?
The resolution of print data determines the amount of detail contained in the final print result. That means: the higher the resolution, the sharper and more precisely the details will be displayed. Resolution is usually measured in dpi (dots per inch), in some cases also in ppi (pixels per inch). If you have more dpi, that generally ensures that you'll have a high resolution. Fewer dpi and that will compromise the print result considerably.
The resolutions recommended for print products depend on many factors, with the distance at which the advertising medium in question will be viewed playing a particularly large role. It goes to follow that the resolution used for stickers, flyers and brochures must be significantly higher than for posters or banners, for example. The closer you normally look at a product, the higher the resolution should be.
We recommend the following resolutions to achieve the best print results:
At least 300 dpi: flyers, stickers and business stationery

At least 200 dpi: posters

At least 150 dpi: banners, large-format posters
It's also important that not only the print file is set to a high resolution, but that the elements it contains, including images, logos, etc., have a high resolution as well. Otherwise, that could result in a loss of quality and lead to blurred results.
Safe zone and bleed
Want to make the best possible use of the space you have in a file? So far, so good. But let's start from the beginning. Each of our printed products is printed on a roll, sheet or board. In the case of paper sheets, they're stacked on top of one another and cut down to the final format in the stack. This approach can result in deviations of a few millimetres. Printed products on boards are then die-cut or plotted. Even these processes offer no guarantee of millimetre precision, especially if the product is printed on both sides. That makes it all the more important for you to make sure that your design includes a safe zone along the trim. Be vigilant about ensuring that images, logos and text are placed 3 mm from the trim.
Speaking of cutting. The bleed also plays an important role in the print file. The bleed is added to the product to prevent or compensate for any differences in how the product is cut. It's normally 2 mm. Glitches – like cropped images or unsightly edges – are what happens when the safe zone and bleed are not taken into account.
Which format should I use to create the data?
Most print shops – including Flyerline – request that print data be provided as a PDF (portable document format). But sometimes the layout used in the PDF files isn't correct (perhaps DIN A4 was used when it was actually supposed to be a DIN A5 flyer, for example). This means we have to convert the file, which can cause blurring or other unwelcome issues. We recommend converting the file to PDF/X format (whether PDF/X-1a or PDF/X-4 is irrelevant) to make absolutely sure you include all of the important data. That way we can process the file without any further adjustments.
Of course you can also send us your file in Word, Excel, .psd, .jpg or .tif format. But that means we have to charge a conversion fee of CHF 25, plus it's very possible that the print results might be disappointing. If you don't have the option of sending the file in PDF format, we recommend inserting the images, logos, etc. in the very highest possible quality.
Our conclusion
Creating print data is always extremely challenging. Plus there are a lot of things to keep in mind. Becoming familiar with the online print shop's recommendations is always essential because optimal results can only be achieved with optimal print data.
At Flyerline, you'll find design templates for InDesign as well as data sheets and tips on how to prepare and deliver print data for every product. If you still have any questions, please feel free to contact us at any time during normal opening hours.
Have fun designing your printed materials!
Your advantages with Flyerline at a glance:
Production in Switzerland
We focus on sustainable production and materials
Individual packaging development according to customer requirements
Can be ordered individually from small to large print runs
Graphics service
Free shipping for orders over 100 francs