Flyerline Schweiz AG
Landstrasse 30
8595 Altnau, CH
+41 71 686 84 70
info@flyerline.ch
The myriad possibilities of custom-printed cardboard packaging
Jump back to the overview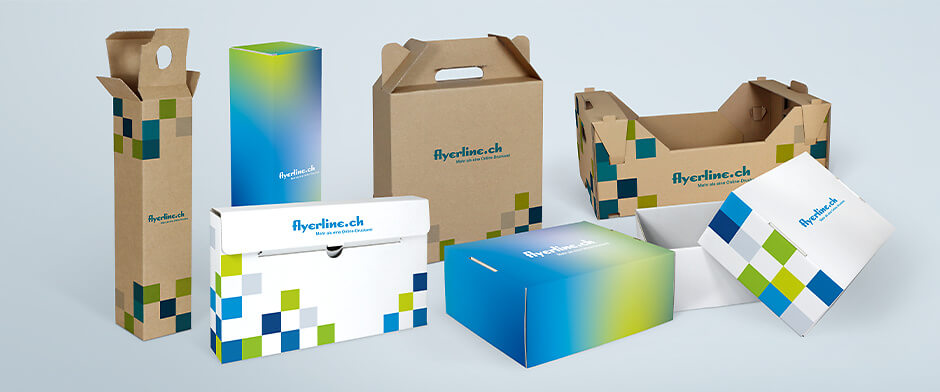 Cardboard is one of the world's most commonly used packaging materials. This flexible material offers a number of different advantages and options for packaging products in an attractive, safe and customised way, while still taking environmental and financial aspects into account. Printed packaging gives companies an opportunity to transfer their brand message and design onto their packaging.
In this article, you'll discover what types of packaging are available, which materials are used at Flyerline and how you can benefit from our custom-printed packaging expertise and have your very own customised packaging produced.
This article contains the following sections:
A multitude of different types of packaging
There are many different types of cardboard packaging and choosing the right one hinges on a few key factors: The product to be packaged, the target group, the intended use and objective, plus the available budget, of course. Different designs and manufacturing methods are used for different types of packaging, meaning that the costs can vary greatly.
At Flyerline, the range of packaging products is broken down into the following categories: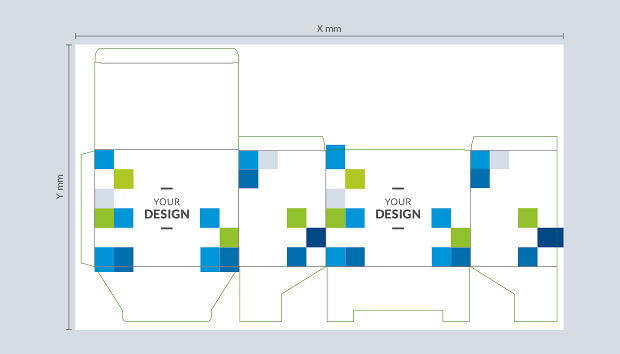 Difference between folding and slip lid boxes
Folding boxes and slip lid boxes are designed in completely different ways. Folding boxes are usually cut from a single piece of cardboard and, as the name suggests, can simply be folded together. They can be put to many different uses and are available in a wide range of different versions, including folding boxes with tuck-in flaps, with an additional tuck-in base or with an auto-lock bottom, as is the case with our take-away packaging. The flaps on the auto-lock bottom are glued, making this type of box extremely stable. The bottoms of these boxes automatically move into place when they're being assembled, which is a big perk for customers in terms of ease of handling.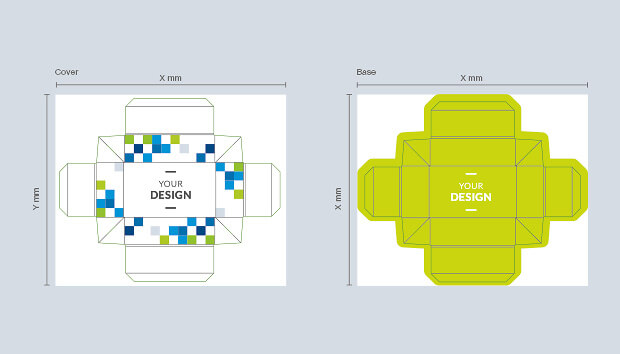 Slip lid boxes, on the other hand, are made of two pieces: a tray and a lid. They're often used as gift boxes or for high-quality product packaging. There are several special packaging types that fall under the category of slip lid boxes such as slip lid boxes with self-locking walls or slip lid boxes with double-wall frame trays, which feature particularly wide edges that help showcase products even better.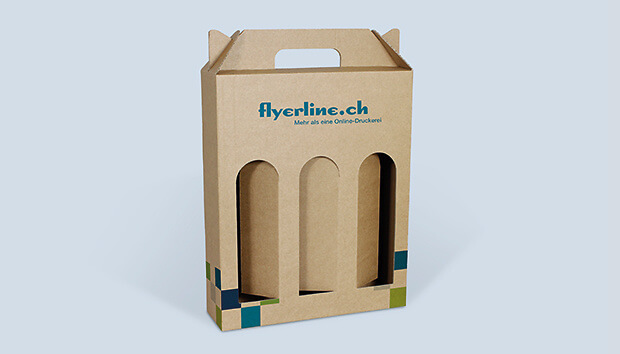 Special features such as inlays, windows and more
The outside of a package isn't the only thing that matters. You can choose from many different options for the interior that might help improve how a product is presented or offer it more support through the use of inlays (also known as inserts). They can be made of the same material as the packaging or from other materials. Inlays can be made with tabs, compartments or cut-outs and can be glued or inserted. These inserts are particularly ideal for multi-item products. Padding or filler material like bubble wrap can also be used to protect the product or the goods to be shipped.
If you'd like to give consumers a little taste of what's inside the packaging, windows or cut-outs are good options and lend the packaging some special flair. Wine boxes from Flyerline feature this type of window; it not only whets peoples' appetite for the wine but protects the bottles as well since the window flaps can be folded inwards to serve as a buffer between the wine bottles.
The right packaging material
Solid cardboard and corrugated cardboard are some of the most commonly used packaging materials. Both of these types of cardboard differ in terms of composition, density and price. One material might be more suitable than the other depending on the packaging's purpose. There's no such thing as the perfect packaging material – it all depends on what you need to put in it. We'll show you a few materials in this blog post and explain the advantages of each in a little more detail.
Solid cardboard
As its name suggests, solid cardboard is solid, meaning that it consists entirely of poured material – mostly waste paper but also some fresh fibre as well. This type of cardboard is extremely strong, heavy, extremely dense and has a homogeneous structure, making it ideal for printing. Solid cardboard comes in different thicknesses ranging from 0.5 - 4 mm.
Corrugated cardboard
Corrugated cardboard, or corrugated board, consists of cellulose, i.e. the raw material used to make paper. Corrugated cardboard is made up of several glued layers, with at least one corrugated layer and one smooth paper web glued together. The structure of corrugated cardboard is always the same: outer liner, intermediate liner, fluting medium and inner liner. That means this type of cardboard is not as dense or solid as solid cardboard. The glued layers make corrugated cardboard lightweight yet extremely sturdy. The material is highly versatile, as it can contain different types of flutes (identified by different letters). What's more, this cardboard's structure looks exactly like the name suggests – corrugated, or wavy.
Flyerline mainly uses E flute and B flute cardboard as well as EE flute, which simply means it has a double flute. The letters stand for different flute sizes. The more layers there are, the more stable the box. The material used for the outer and inner liners also has an impact on quality.
Flyerline offers both white corrugated cardboard as well as brown corrugated cardboard, which lends the product a more natural feel.
Solid cardboard packaging or corrugated cardboard packaging?
Solid cardboard is better suited to high-quality packaging and premium products. Corrugated cardboard is mainly used for functional packaging such as shipping boxes, moving boxes or folding boxes.
Special box for food
Specially coated cardboard, also referred to as food-grade cardboard, is used for special applications such as take-away packaging for products like French fries, pizza boxes, lunch boxes, etc. This cardboard has one important feature: a barrier coating (PE coating) on the inside of the packaging. It seals the cardboard effectively to prevent grease, sauces and condensation from leaking while also keeping the food warm for longer. Food-grade cardboard is only printed on one side (exterior).
Custom packaging solutions from Flyerline
By now you should have gained an impression of the different types packaging available, the materials used for them and their suitability for different applications. Our online shop already has a large selection of standard packaging solutions that you can easily order with just a few clicks. For shipping boxes, trays and folding boxes, simply enter your custom dimensions into the configurator in order to tailor the product to your needs. Our webshop also offers a design editor that can be used for many types of packaging. Use it to configure simple designs or position your logo directly online, generate the print data and then put the product right into your basket. And best of all: at Flyerline, you don't need to order large quantities. Depending on the product, packaging can already be ordered in print runs of as low as one, two or three.
And if you want a unique packaging solution customised according to your specific wishes, you can count on our innovative and experienced developers. They make nearly anything and everything possible and are at your side along every step of the way: from the needs assessment to the design phase, development, production and shipping. If you want, you can also take advantage of the expertise of our graphic designers, who will be happy to design packaging based on your corporate design.
Get in touch with us. We'd love to have the opportunity to help you with your packaging project.
Contact us now
Your advantages at Flyerline at a glance:
Produced in Switzerland

We focus on sustainable production and materials

Development of customised packaging on request

Can be ordered in print runs of any size – from small to large

Graphic design service

Free shipping on orders of over CHF 100