Flyerline Schweiz AG
Landstrasse 30
8595 Altnau, CH
+41 71 686 84 70
info@flyerline.ch
How sustainability and environmental protection factor into the production of printed products
Jump back to the overview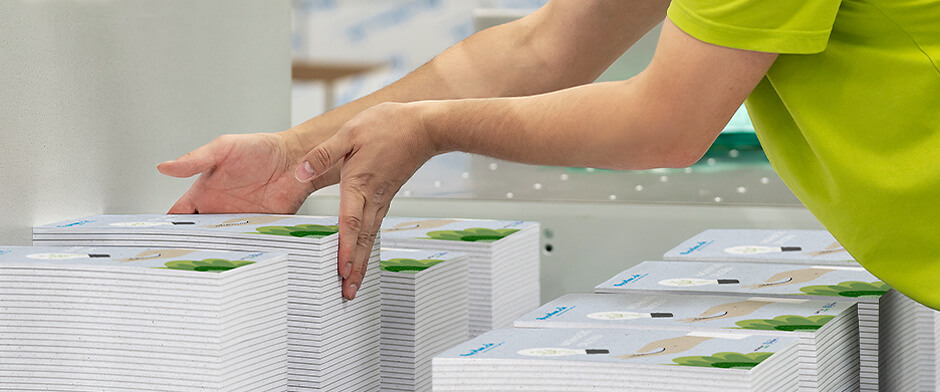 Businesses in today's world not only have to watch their bottom line, they also have to be mindful of sustainability and environmental protection. Even online printing companies have a plethora of options for producing printed products in a way that's more sustainable and helping customers procure printed products sustainably.
In this article you'll discover why sustainable printing is important, how you can structure your printed product procurement process to be more sustainable and which contribution Flyerline as a company makes toward climate protection.
Why sustainable printing is important
Climate protection, environmental awareness, sustainability and the use of renewable energies – these are all topics that impact each and every single one of us in the modern world.
As an online printing company, we process large amounts of paper and cardboard. We all know that paper is made from wood and that paper manufacturing is highly water- and energy-intense, resulting in large volumes of CO2 emissions. Not only that, but wood is a natural resource that takes a certain amount of time to grow back. That's why it's so important to make the production of printed products as sustainable as possible and to only select sustainable types of paper. Sustainable printing can help mitigate these negative effects.
Choosing the right paper and material
We know that it takes a lot of energy to make paper. New – or virgin – paper is made of virgin fibres (natural fibres). One alternative to that is recycled paper, which is made of waste paper instead of virgin fibres.
Unlike when it was first introduced, recycled paper is extremely popular nowadays and offers at least the same quality in terms of resolution and colouring as offered by tried and tested virgin fibre paper. It's quite common to see companies using recycled paper deliberately as a design element to lend their printed products – like business cards, stationery or even brochures – a natural feel and high-quality design. That makes recycled paper an excellent choice if you're looking to do your printing in an environmentally friendly and sustainable way.
Paper made using wood from sustainable forests is also a good alternative. When selecting which type of paper to use, country-specific certifications provide consumers with information regarding the paper's composition, quality and origin. Let's take a closer look at these certifications.
FSC®-certified paper
Founded in 1993, the FSC® (Forest Stewardship Council) is a non-profit organisation committed to promoting the environmentally sound management of forests. In other words, it is a certification system that supports sustainable forest management. Furniture, pencils or toys bearing the FSC® label come from forest regions that are managed responsibly and in a resource-conserving and environmentally conscious manner. The FSC® label espouses certain principles, meaning that forests or plantations are only certified if they comply with the organisation's specified and simultaneously strict conditions. The FSC® is also very careful to ensure its own transparency. To that end, all certified businesses are inspected annually by independent experts and the results of those inspections are then published.
Sustainable paper at Flyerline
Flyerline has been using FSC®-certified paper since 2012. We offer a growing selection of sustainable papers and materials for our portfolio of printed products. Choose from a wide range of recycled and natural papers for your flyers, envelopes, stationery or brochures, for example, to help you make your contribution to the environment.
Sustainable outdoor advertising – All-weather Posters made from recycled material
Recycled material (corrugated plastic) is one of the options available when ordering our classic for outdoor advertising: All-weather Posters®. That means the material has already been used for a different purpose in the past. The posters can be recycled after use as well. For this, the posters are melted down, processed into granulate and the material is used to make new corrugated plastic boards, flowerpots and other products. The result is a consistent recycling loop.
Additional product information
What does climate-neutral printing mean?
If a sustainable printing company wants to contribute toward climate protection, climate-neutral printing is immensely important. But what does "climate-neutral printing" actually mean?
Put simply, 100% carbon neutrality means that all printed matter produced is also offset. What's more, any CO2 emissions that arise or are caused in any way – through business trips, the vehicle fleet, water, electricity, heating, etc. – must also be offset. But how can products become climate neutral?
The first step is to determine a company's annual CO2 emissions. These are calculated by documenting all emissions caused by the production process, logistics and the materials used, among other things. That provides a good overview of both the CO2 emissions caused and as well as which measures should be taken on that basis. The next step is to offset those CO2 emissions. How does that work? By participating in climate protection projects, for example. They don't necessarily have to be projects undertaken at the emissions' point of origin. Precisely where on Earth these emissions are caused or prevented is immaterial in terms of the global concentration of greenhouse gases and the greenhouse effect. It goes to follow that any emissions that aren't preventable locally can be offset mathematically through climate protection measures implemented at another location.
In the final step, the products can be marked with the Climate Partner climate-neutral label. If you enter the ID number on their website, you can track how much CO2 has already been offset and which climate protection projects are being supported.
Impact of the equipment pool
It's no secret that large equipment pools consume an enormous amount of electricity. That's why it's not only essential to make ongoing investments but also to use printing machines that are extremely energy efficient. The right printing processes can also make a significant contribution to the climate.
Equipment pool at Flyerline
Flyerline invested in the newest digital press on the market – the HP Indigo 100k digital press – in 2021. Flyerline is still the only printing company in Switzerland that can call this machine its own. The press features even higher productivity and produces a better-quality result. The production employees are fully trained and, if any repairs are needed, they can handle those themselves. That saves travel time for suppliers and repair technicians.
We have a variety of offset presses in operation as well. There are several different processes available to create the images on the printing plates used in offset printing. All printing plates at Flyerline have been imaged process-free since December 2018, meaning that the plates are exposed to infrared light without any use of chemicals (unlike the conventional approach). Ordinary plates require extensive cleaning afterwards involving copious amounts of electricity and water.
The process-free method has been helping us save around 60,000 litres of water and around 3,600 kilowatts of electricity every year since 2018.
Using process-free printing plates conserves our resources
Using natural electricity
Flyerline has been purchasing electricity from renewable sources since 2017. It is generated by hydropower plants, thereby preventing the CO2 emissions that otherwise would have been caused by fossil fuels.
Tips for sustainable printed material order placement
As already described, you can start making your printed matter more sustainable by choosing recycled paper or recycled materials right from the start. Here are a few more pointers on making your print products even more sustainable:
Reduce paper consumption by optimising the content:

less is more. When designing the layout for your printed materials, make sure you limit yourself to the most important things – especially when creating multi-page printed products like brochures and menus. Not only can too much text and content be overwhelming, but it unnecessarily adds extra pages as well.

The right print run:

think about how many copies you really need. People like printing more than they need – especially for trade fairs and events. Make a note of the quantity you used so you can order the just the right print run for future events based on experience. But don't pare down your order too much, either, because you'll also incur costs for shipping, packaging materials, etc. if you need to order more.

Proper disposal:

Ensure that excess or outdated material is disposed of correctly. Most Flyerline print products can be disposed of with the rest of the waste paper.

Pick up printed matter yourself:

Do you live nearby or are you in the region for an appointment? At Flyerline, you have the option of collecting your printed matter from the pick-up counter. That helps cut down on shipping routes and packaging material.

Choose local printers:

When ordering printed materials, make sure you know where the printing company actually prints its printed products. At Flyerline, you can rest assured that all products are produced in Switzerland – at the company's main site in Altnau – and are not produced through partners in a foreign country. The "Printed in Switzerland" label lets consumers know that the printed products are produced in Switzerland. The label was created by the industry association viscom.

Additional information about the label.
Conclusion
Sustainability concerns us all. As an online printing company, Flyerline takes this responsibility very seriously and makes an important contribution to the environment through various measures. We print sustainably and we support climate protection projects, invest in more efficient machines and offer sustainable materials for our printed products. New sustainable materials are being added to our product portfolio on an ongoing basis and we constantly strive to develop innovative products with recycling loops.
You, too, can help protect the climate when ordering printed materials. We're also happy to advise you individually during order placement to make sure you find the right product and material for your communications.
Frequently asked questions:
What is sustainable printing?

Sustainable printing means paying attention to environmental aspects – such as energy consumption, CO2 emissions and resource consumption – when printing.

How can I, as a customer, make my printed products as sustainable as possible?

By using recycled paper or recycled materials

By optimising content (less is more) to reduce paper consumption

By ordering the right print run

By disposing of materials correctly

By picking up printed materials yourself (if you're nearby)

By choosing a local printer and looking for "Printed in Switzerland"

Which are the best-known sustainable printing initiatives in Switzerland?

There are several different initiatives and programmes in Switzerland that promote sustainable printing, such as the "EcoPrint" label and the "myclimate" initiative.

What role does recycled paper play in sustainable printing?

Recycled paper is a good alternative to conventional paper and can help reduce resource and energy consumption.
Your advantages with Flyerline at a glance:
Production in Switzerland
We focus on sustainable production and materials
Individual packaging development according to customer requirements
Can be ordered individually from small to large print runs
Graphics service
Free shipping for orders over 100 francs